Halloween has been bouncing back to the older holiday limelight in the recent years. This old traditional festive occasion now rivals Christmas in popularity among people. In this era with the growing trends of sophistication, the Halloween decoration that mark the nation's front lawns and porches have become frightfully advanced.
The monsters, ghosts, and goblins that make Halloween what it is, have become electrified and inflatable. They soar high up in the sky lighting up the night, shrieking on cue and waving to the passersby.
The advanced technology has made Halloween scarier. But, somewhere down the lane, you may feel a bit nostalgic about the old time charm. All the sophistication that has come into the festival now, makes one long for the cardboard skeleton, and the fun with a few honeycomb tissue-paper pumpkins. You are not alone in craving for the old world charm. This is the reason why the 1920's till 60's Halloween decorations are much in demand.
However, finding the Halloween decorations that were used to decorate and display earlier would be tough to find in today's marketplace. The vintage Halloween images are not easily available.
Some of the other collections that have become rare amidst the growing modern trends in Halloween decoration are die-cuts, of archetypal images like spooky black cats, scary witches, plastic pumpkin candy holders, Jack-O-Lanterns, and honeycombed-tissue decorations, to name a few.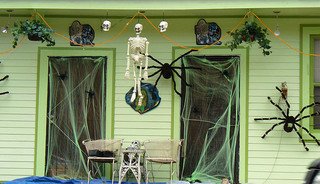 The old day decorations and charms were absolutely lost with sophistication of lives and advancement of technology. But, now people are slowly reviving the traditions and old style decorations of Halloween.

Where to find the classic Halloween decorating supplies:
If you also want to join the growing trends of reviving the old style of Halloween decoration then Internet is the best place to get the solution. Thanks to the websites like eBay, searching for the old stuff has become really easy. You can now find classic images and original 1930's jointed skeleton paper-cutout with lots of convenience.