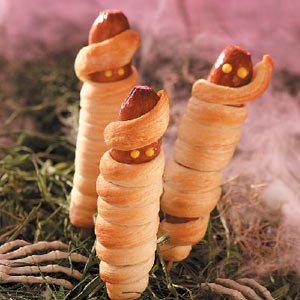 Preschool kids love Halloween! Halloween is a great time to create preschool easy crafts and recipes! Your family can use Halloween preschool easy crafts to decorate your home and make trick-or-treating more entertaining for the neighborhood children. Spooky themed recipes will be a big hit at parties or home.
Halloween Crafts for Kids
Here are a Preschool easy craft idea and recipe to make Halloween a hit!
Halloween Crafts for Kids that pre-schoolders will love
These spooky ghosts will be a hit with your child. Date them for fond memories and watch how your child grows from year to year. These also make great invitations to a Halloween party!
Black construction paper
White washable paint
Black marker
Directions: Paint the palm of each child's hand with white washable paint. Keeping the fingers and thumb close together rather than spread apart, help the child make hand print on black construction paper. When the paint is dry, draw on some ghostly faces. The fingers/toes form the bottom of your ghost.
Mummy Hot Dogs
Here is a spooky twist on the classic pigs in a blanket recipe!
1 can (8 oz) refrigerated crescent dinner rolls or 1 can (8 oz) refrigerated flaky dough sheet
American cheese slices (2-3)
Package of hot dogs
Cooking spray
Ketchup/mustard to dip in to
1. Heat oven to 375°F.
2. If using crescent rolls: Unroll dough; separate at perforations, creating 4 rectangles. Press perforations to seal. If using dough sheet: Unroll dough; cut into 4 rectangles.
3. With knife or kitchen scissors, cut each rectangle lengthwise into 10 pieces, making a total of 40 pieces of dough. Slice cheese slices into quarters (1/2 slice cheese, cut in half).
4. Wrap 4 pieces of dough around each hot dog and 1/4 slice of cheese to look like "bandages," stretching dough slightly to completely cover hot dog. About 1/2 inch from one end of each hot dog, separate "bandages" so hot dog shows through for "face." On ungreased large cookie sheet, place wrapped hot dogs (cheese side down); spray dough lightly with cooking spray.
5. Bake 13 to 17 minutes or until dough is light golden brown and hot dogs are hot. With mustard, draw features on "face."
High Altitude (3500-6500 ft): Bake 15 to 19 minutes.