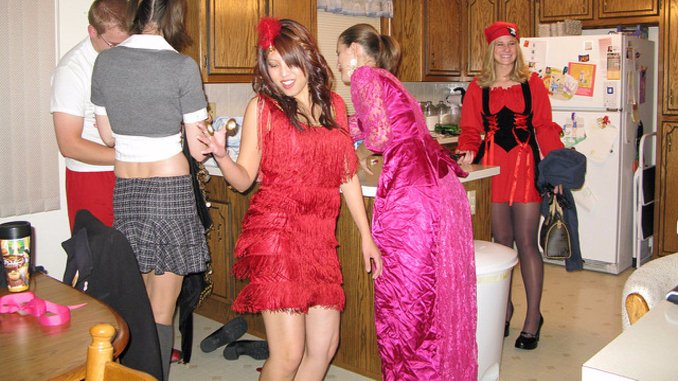 Just because you're not a kid anymore doesn't mean that you can't have fun on Halloween. In fact, throwing a Halloween themed party is so much fun you will probably feel like a kid all over again!
If you want to throw an adult Halloween party that everyone is going to remember, however, you need to have a clear idea of what you're doing so that you can really set the mood for the event. Here are a few spooktacular themes for adult Halloween parties to spark your imagination:
Nuclear Spill
Picture this, Chernobyl just went nuclear, right in your living room! Radiation warning stickers are everywhere, there is an eerie green fog billowing across the floor, and all the food and drinks look disturbingly radioactive. You know where this is going, right? Mutants! Or zombies and mad scientists; have your guests dress in any costume that fits the theme!
Happy Hellidays
You will never look at holidays the same way again. Those cute fluffy Easter bunnies? Dead. Jolly Saint Nick? Pure evil. That delicious looking turkey you're eating? Think again, you cannibal! Take your favorite holiday and spook it up, everything from the food to drinks to costumes should be as disturbingly different from the original holiday as possible!
Massacre at the Oscars
This one is always a hit. Have all of your guests dress up as their favorite Hollywood, err Helliwood, actors and actresses. They can be classic or modern stars but they should all be dead, dying or ready to commit horrific deeds at any moment. Set up the event like a real Oscars award ceremony that has gone horribly wrong and hand out creepy skeletal "Oscars" to the best dressed Helliwood stars at the end of the night.
Seven Deadly Sins
This is the perfect theme for a truly memorable and sin-filled Halloween! Dedicate one area or room to each of the seven deadly sins and decorate appropriately: pride, envy, gluttony, lust, anger, greed and sloth. Make sure your guests all come sinfully dressed!
Villains vs. Superheroes
If you have a bunch of nerdy friends, this is the perfect theme for you! Even heroes and villains need a break from their diabolical plans to destroy the world (or save it), so what better way to let loose than a Villains vs. Superheroes themed Halloween party! This works best if you make sure to have an equal number of Villains and Superheroes. After all, if the balance is upset, the results could be disastrous!
Fairy Tales Gone Wrong
Remember all of those "happily ever after" fairy tales from your childhood? Well, these fairy tales are anything but happy; in fact they're downright disturbing! Take your favorite fairy tale characters and "creepify" them to the max. Decorate your house as the witches house from Hansel and Gretel or any other famous tale and give it a wicked Halloween twist.
If you're looking for something different from the standard (and boring) adult Halloween parties this year, throw your own! Pick a theme and run with it, the only limit is your imagination!

Are you looking for a great way to bring the family together this Halloween? Let us create a personalized Jigsaw Puzzle from your own photos for an unfogettable Halloween activity. From kids sizes to large 1000+ piece adult sized puzzles, a Halloween Photo Puzzles make for great family fun or a lovely gift idea. Visit www.jigsaw2order.com for more information.