"The Girl with the Dragon Tattoo" is a thriller film released late 2011, based on the Swedish novel written by Stieg Larsson.
The movie revolves around one man's search for a young girl who has been missing for almost 40 years from her uncle's home. The community claimed for years that the girl was probably kidnapped and murdered.
One of the main characters, Lisbeth Salander, who is the girl with the dragon tattoo, is a fantastic computer hacker. She is eventually hired to work on the investigation of finding the missing girl or proving that the girl is dead.
Lisbeth is a tough character. She dresses in a punk fashion and lives a hard life alone under the guardianship of the state. The plot and scenes in the film are adult content, and probably why there are no Halloween costumes available for children, as they probably would not have watched this movie.
Although the film had great reviews, there are also no adult costumes of Lisbeth. This is where imagination and creativity needs to come into play.
Make Your Own Costume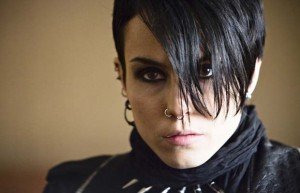 Lisbeth's character has a punk rock styling. You will need either leather tight pants, or to save money, you can purchase skinny tights that look like leather. The main point here is that the pants are fit snuggly to the body.
You then need a plain black t-shirt that does not cost too much, as you will need to cut off the sleeves. To complete the outfit, you will need a black leather jacket, or less expensive fake leather or other type of black jacket.
To accessorize the look, you will need a pair of black combat boots. If this is too costly, you can always use regular black boots to complete the outfit. In addition, Lisbeth has body and ear piercings. You can purchase clip on lip, eyebrow, and nose rings that will look realistic. These can usually be found at punk rock stores or online. For earrings, any style that is black and large will work.
For the hair, you can either slick your own hair into a Mohawk, or purchase a wig. Lisbeth wears her hair in two different styles in the movie, so you also have the option of purchasing a short wig, and trimming it so the bangs are very short, and one side of the wig is shorter than the other, creating an asymmetrical cut.
Lisbeth's makeup is plain, but with black eyeliner. You can either do your entire eye in black eyeliner, or copy the character exactly and only line the bottom lid. Her lips have a pale color, so you can use a flesh tone lipstick.
As the movie denotes, Lisbeth has tattoos. Although it would be extremely difficult to do a large temporary dragon tattoo, which won't even be seen with the costume, you can use tattoos on areas of your body that are showing. This is just an option, and not really necessary to complete this stylish look.